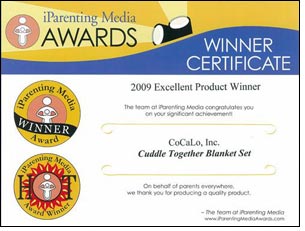 CoCaLo, Inc., designer and manufacturer of infant bedding and room décor accessories, announces that its Cuddle Together Blanket Set has received an iParenting Media "2009 Excellent Products" Award in gift category.
The Cuddle Together Blanket Set features a very soft 30" x 40" blanket for Baby and a cozy coordinating 40" x 50" throw for Mom. The set is available in Pink & Ivory and Sage & Ivory.
"We are very excited to receive this award. We wanted to create a product that not only baby can enjoy but that would also celebrate the mom, as she often feels left out. We think this blanket set makes a wonderful gift that promotes special bonding between mom and her baby. We are thrilled that iParenting Media Award experts recognize the unique qualities of this product," said Elina Rodina, CoCaLo Marketing Manager.
A reviewer from the iParenting Media Award shares her opinion: "Upon first glance of the mother and baby blanket set, I thought it was adorable. The design and look of the blanket along with the wooden hanger was very appealing. The colors are soft and pleasant to look at with the pastel pink and brown swirls. I love that the blanket has soft colors, as many children's items come in such bold colors. This blanket set was extremely soft and very cozy. My child loved to be wrapped up in this soft blanket and they loved the texture of it. The blanket is thin, however it does provide warmth for the baby and mother as well. I think this is a great gift for any mother to be. Instead of only giving to the baby, the mother will also receive a gift well."
CoCaLo, Inc., headquartered in Costa Mesa, CA, is a leading manufacturer and distributor of popular infant bedding and room décor accessory products.