Textile and garment companies across the globe are slowly but surely understanding the dynamics of bringing forth environmentally and sustainable products to the market. Increasing awareness levels is leading consumers to increasingly demanding eco-friendly clothing, more in particular for their children.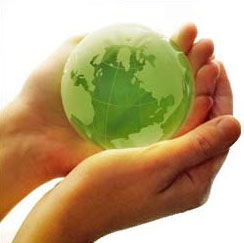 It is difficult to put a finger on the estimated global sales, but the growth rate seems to be sharply increasing with each passing year. More and more companies are jumping on the eco-friendly bandwagon in a bid to capture the minds of the consumers and also market shares of the bourgeoning sustainable textile and clothing market.
The increase in number of companies, flying the green flag at the recently concluded Texworld in France is an indicator of the effects of the growing activism in the green friendly movement. Nearly 10 percent of the 660 exhibitors had a full range of products which were eco-friendly and made from sustainable raw materials.
The spectrum of eco textiles has kept expanding and now covers organic cotton, organic wool, soybean protein fiber, recycled PET bottle fiber, dope dyed fiber, low temperature dyeing textiles, low-pollution digital printing technology, Solvent spun Tencel and biodegradable PLA fiber, among others.
The major apparel retailers across the world have also understood the dynamics of these niche products. Global brands like Timberland, Patagonia, Wal-Mart, Nike, Puma, Reebok, Adidas and many others are in to retailing of these products and in the process demonstrating their corporate social responsibility towards the environment.
Fibre2fashion spoke to Mr Ruey-Guang Tzou, Director, Industry & Information Department, Taiwan Textile Federation, which had hosted the 'Textile International Forum and Exhibition', centered around the theme of sustainability and which had hosted a large number of companies in to manufacturing of eco-friendly textiles and clothing, on his views on this movement which is slowly catching up with even Taiwan based companies.
We started off by asking him, as to how much more useful are the green-friendly fabrics compared to normal fabrics, to which he replied by saying, "Because of the efforts of industry and support of consumers, there is now a wider choice of eco-friendly textile materials and products. Especially the fabrics that made under 6R's (Reuse, Recycle, Reduce, Refill, Refuse, Repair) concepts are more useful compared to the normal fabrics.
Next we asked him whether demand for green clothing was increasing globally, to which he explained by saying," Yes. Although we have no exact statistical data, according to the opinions of Taiwan textile firms and news in the media, the demand for eco-fabrics is increasing globally. Brands and retailers including Patagonia, Marks & Spencer and Wal-Mart are increasing purchasing of environmentally friendly products".
Since the United Nations has declared 2009 as the "International Year of Natural Fibres", we asked him whether the Institute had any plans connected to the event, to which he said," No. So far there are no plans in Taiwan to support the scheme of UN "International Year of Natural Fibres".