The perfect way to welcome people to your home is with colorful and attractive door banner flags. They can be displayed on any door of the home- front, back, side, patio, or porch. Some door banners might look better on one door rather than another depending on the surrounding decor, size of the door, size of the banner, and lighting.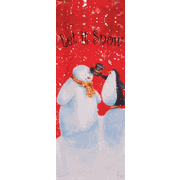 Door flags are the perfect way to display and announce personal news that you want to share including a birth in the family, a graduation, a wedding, or a birthday. They can also be used to show a personal interest in a specific sport that one of your family members participates in on a regular basis.
People can also use door banner flags to show their proud support of local or national sports teams. If you prefer, you can use door banner flags as wall hangings or decorations. In fact, they are available for every holiday throughout the year in a wide variety of designs, styles, and motifs. Typically, they are made to last and often feature heat or weather resistant materials.