If you are not a lot of clothes for women item 'default' and 'personality' a symbol of youth, with a T-shirt Let's use.
T-shirt fashion trends of 2009 is a cute, sexy and romantic. Casual and sporty appearance that looks like this: Did you have to want to stick is the T-shirt. Blue, red, purple, yellow, primary colors and a T-shirt to raise nagin game, but without color or print T-shirt design is transforming itself and of the silhouette.
White jacket and was dedicated in wearing t-shirts, secondary items that will be popular items euroseodo exposes body, chest and shoulder part of the design of the tight T-shirt to reveal a sexy, feminine beauty has emerged as popular items.
Another popular reason, the shoulders and chest, tight waist, and all design is a little short. Fashion-conscious generation of small size (size 33,44) to find and locate buried kid or Jr. said. Highlight the line to save the female breasts or the Foundation shoulderpit was a narrow look. A small pocket on the shoulder, chest syeoring either come to us with a cute design, lace underwear, in the chest or shoulders or waist of the sewing of a popular style of lingerie has been processed. Enjoyed in style, wearing layered clothes revealed.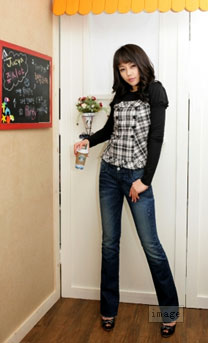 Wearing a T-shirt with a casual atmosphere with strong emphasis, but the design of the shirt waist and a romantic heart silk, chiffon skirt, and is a good match. Here you can also highlight women's super sensitive to codination add accessories. Vintage jewelry.
Women's clothing brand, Lee Eun-sil-stylelist of JUCYA "T-shirt than the one fashion item that can go pretty cheap items" that "a variety of products introduced in 2009 and qualified T-shirt you choose to wear fun," he said.