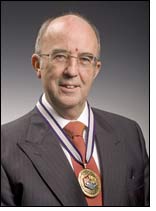 Dr Mike Bartle is the new president of the Society of Dyers and Colourists (SDC), the world's only chartered society, professional body and educational charity dedicated to the science, technology and application of colour. He takes over from Sue Williams.
Very much part of the traditional, core membership-base of the SDC, Mike began his working life at ICI within the polymer production unit which was formative in sparking an interest in dye chemistry. So much so, during his next position working in a large dyehouse he developed an interest in textile coloration that inspired him to return to the lab to carry out research into the chemistry of azo dyes, leading to a PhD, which formed the groundwork for his future career.
Over the years, he has undertaken a variety of roles within the textile industry working in fashion, automotive, sportswear and performance fabric processing, involving cotton, silk, polyester, acrylic, polyamide and wool yarns. He has worked overseas, with the vision to set up new business concerns in emerging markets, establishing a number of dyehouses in both Egypt and Sri Lanka. And it is this wealth of experience and attitude that provides Mike with a solid base to represent the SDC as its key ambassador at this stage in the organisation's history.
He embraces change and welcomes challenges, and with a new five-year business plan for the Society to be implemented beginning 1 July 2009, his presidential year certainly comes at the dawn of a new horizon for the SDC. With the mission of the Society more-or-less unchanged in it 125-year history, a new set of aims and objectives – developed with the needs of the worldwide membership in mind, whilst also encompassing people of all ages with an interest in colour – will ensure the SDC is a thriving and sustainable 21st century organisation.
Comments Mike, 'I aim to get very involved in the implementation of the new business plan to drive the Society forward as the leading global provider of information and expertise in the science of colour.'
Throughout his term of office, the new president will work closely with the SDC chief executive, Susie Hargreaves, who says of the new president, 'Mike is a well-known figure in the coloration industry, both in the UK and overseas, and over the years he has seen the industry develop, welcoming new innovations and innovators. I am looking forward to working with him – as well as the SDC staff and trustees – in a collaborative working partnership that will be vital at this important time for the Society.
The new president took office on Friday 24 April 2009, at a ceremony which was an integral part of the SDC Day of Celebration and saw his inaugural duties culminate in a presidential reception and dinner.